Transport Booking Application
Our Online Transport Booking Application allows you to expand your booking capablities without having to add more phone lines and staff.
Try a free demo
Try out the Transport Booking Applcation for yourself
click here for demo access
Features and Benefits
Take more bookings without adding extra phone lines & staff

Fare Calculator, very accurate and shows route on map

A dynamic, professional looking & user friendly website

Customers can create an account

(increase loyalty)

Ability to email your registered clients with special offers

Airline style booking page

iPhone & Android location based bookings

Attract new customers by having a strong online presence

Attract airport bookings from inter-county/overseas clients

Generate Reports

(e.g. new cusomters month by month, total bookings)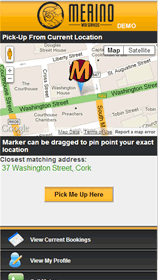 Smartphone Location Based Pick-up
Take a look at our location based pick-up app. It works on all smartphones with Wi-Fi capability or GPS.
The location finder is very accurate and can be adjusted by the user if necessary. Closest matching address is provideed to Taxi comany, along with GPS coordinates.
Base Operator can confirm a booking and give the user an ETA which automatically appears on the users screen. The operator can also reject a booking for whatever reason and the user is instantly notified.
Try it on your iPhone, Android or Windows 8 smartphone or tablet:merinowebservices.com/transport_demo/webapp/
Advantages of doing business online
The number of Irish households connected to the internet currently stands at 83%, with travel related expenditure accounting for 30% of internet spending between 2011 and 2012. source: Irish Examiner
Having a strong online presence is a comparatively inexpensive way to reach potential clients, especially in a relatively homogenous market like the transport industry. Your website is the first point of contact for the majority of new customers. This makes having a professional looking and useful website a must in today's economy.
Fare Calculator
The Fare Calculator gives your potential customers an easy and precise way to work out the cost of their taxi journey. The customer can simply enter a pick-up and drop-off location and the software automatically generates the cost.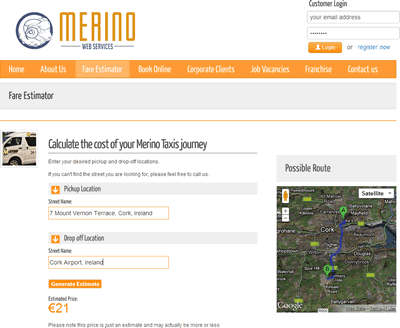 Most taxi companies offer their customers a chart with prices, the customer must know the exact distance of their journey and then calculate the cost themselves. Customers are more likely to book a taxi through your business if they know the exact cost of the journey.
click here to try it yourself
Making a Booking
Once a customer has registered their details on your site, they can make bookings from any computer or smartphone. Customers using a computer to make their booking will be presented with an easy to use booking page (see screenshot below). A calendar automatically loads when a customer selects the date, this is a similiar feature to airline booking pages. The customer has the option to select the number of passengers, the type of vehicle (e.g. wheelchair accessible) and the option to make a return booking. The is also an option for special instruction, where a customer can give more details (e.g. flight number, extra stops, etc.)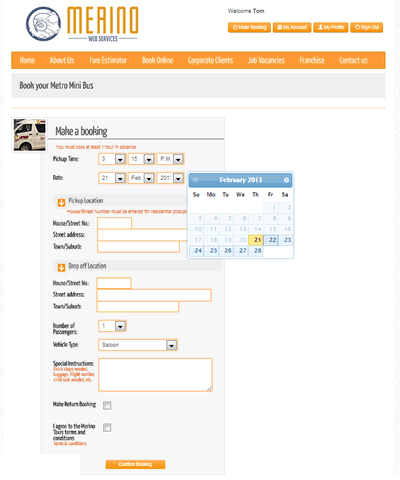 The booking page has error checking throughout, this means an error is reported to the customer if, for example, they fail to enter a time or leave the pick-up address blank. There is a 1 hour time restriction on all bookings(except the app), meaning a customer must book at least 1 hour in advance. This can be customised to suit your needs. To try it out for yourself go to our demo site and create an account: demo site
Base Operator Interface
The base operator interface has a number of features to make managing clients and bookings as straight forward as possible, while maintaining a high level of functionality. When a new booking is made an email is automatically generated and sent to a designated email address. Once the base operator confirms a booking, an email is automatically sent to the customer to with a confirmation notice and a price.

The base operator can confirm, edit and cancel bookings, all of which trigger an email to the customer. If a customer cancels a booking an email is automatically sent to the designated email address. Bookings can be searched for by date or reference number. All bookings are recorded and stored for over 12 months, the number of bookings and amount spent by each customer is also recorded.
From the Base Operator Interface, reports can be generated on various aspects of the online business. A graph showing the number of new clients over time is a good way to monitor growth. A report on the top 25 spenders in the previous 12 months can be useful when making out the Christams card list!