Featured Works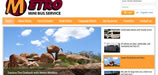 Latest Project
Metro Mini Bus approached to us to developed a booking system for their large fleet of taxi mini-buses in Darwin, Australia. Customers can book from any computer or smartphone ...more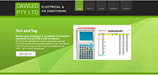 Recent Project
Gawled Electrical are an electrical firm in the Northern Terriotry, Australia. They asked for a clean website with a content management system and a client login portal ...more

About Merino Web Services
Merino Web Services was founded in 2012 by Tom Stack, a Computer Science graduate of University College Cork, when he returned to Europe after a 6 year stint in Australia. Tom worked in web development for 3 years in Darwin in the Northern Territory, he specialises in developing web applications using PHP/MySQL.
Also employed by Merino Web Services is Tom's brother and recent a Computer Science graduate, Eoin Stack. While also skilled in PHP/MySQL development, Eoin is also a whiz C# and .NET programmer. Eoin is currently doing in a Masters in Mulitmedia at U.C.C.

Our goal is to offer your business a high quality product while giving you value for money. We strive to make your website generate income and leads for your business.
Our flagship product is the transport booking system, this is currently in use by Metro Mini Bus in Darwin. We have just launched a webapp to allow users to make location based bookings.
Our Expertise
Do you have a concept for an online application? Or perhaps you want to branch out your existing business to gain online revenue? Feel free to contact us to discuss development options.
If you are looking at contracting out all or part of a software project, please contact us for a quote. Below are our areas of expertise.
PHP and OOPHP
XHTML and CSS3
iPhone and Android App Development
SQL and Database Design
ASP.NET
C#
Java