Featured Works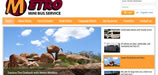 Latest Project
Metro Mini Bus approached to us to developed a booking system for their large fleet of taxi mini-buses in Darwin, Australia. Customers can book from any computer or smartphone ...more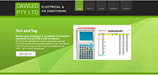 Recent Project
Gawled Electrical are an electrical firm in the Northern Terriotry, Australia. They asked for a clean website with a content management system and a client login portal ...more

Welcome to Merino Web Services
Merino Web Services was founded in 2012 by Tom Stack, a Computer Science graduate of University College Cork, when he returned to Europe after a 6 year stint in Australia. Tom worked in web development for 3 years in Darwin, Australia. He specialises in developing web applications using PHP/MySQL.
Also employed by Merino Web Services is Tom's brother and a recent Computer Science graduate, Eoin Stack. While also skilled in PHP/MySQL development, Eoin is a skilled C# and .NET programmer. Eoin is currently doing in a Masters in Mulitmedia at U.C.C.
Our flagship product is the transport booking system, this is currently in use by Metro Mini Bus in Darwin. We have just launched a webapp to allow users to make location based bookings.

Our goal is to offer your business a high quality product while giving you value for money. We strive to make your website generate income and leads for your business.